This is a factual statement of events which occurred when I rented a property in 2016 with little Real Estate Bondi below you will find documentation of the series of events which occurred.
TL:DR Version:
Apply for property to rent
Pay rent, bond, and deposit
2 Days before moving in told property has been sold
Made temporarily homeless
End up with extra costs $$$
Made fair offer for compensation and get accused of trying to profit from the situation
Real Estate Agent makes no attempt to apologise or compensate.
In early March 2016 I inspected 10/52 Bellevue Road, BELLEVUE HILL, NSW, 2023 which was listed for rent.
The apartment was just what I was looking for it was in my budget in a great location and was the perfect size so I applied for the property. When I applied for the property i was informed that the property was for sale but would be sold as a tenanted apartment so once i moved in there would be inspections which was no problem (see email below).
After discussing this with Little Real Estate Bondi I was approved for the property and was asked to pay an deposit as per the instructions provided I made the transaction on the 17/03/2016 BPAY reference #2016077968225070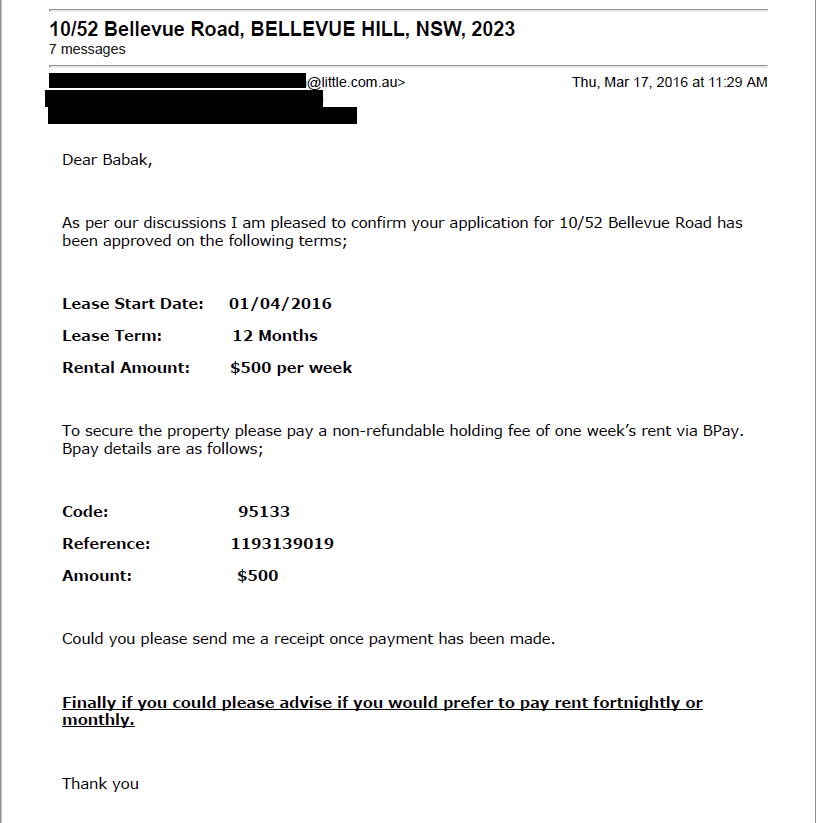 The tenancy approval document that was emailed me on the 22/03/2016 as per the documents instructions I paid the balance of the rent and the bond. I provided and authorised direct debit as instructed. This is important to note as this is a part of the tenancy agreement "This authorisation forms part of the Tenancy Agreement for the property" (I have blacked out my bank details and signature for security reasons).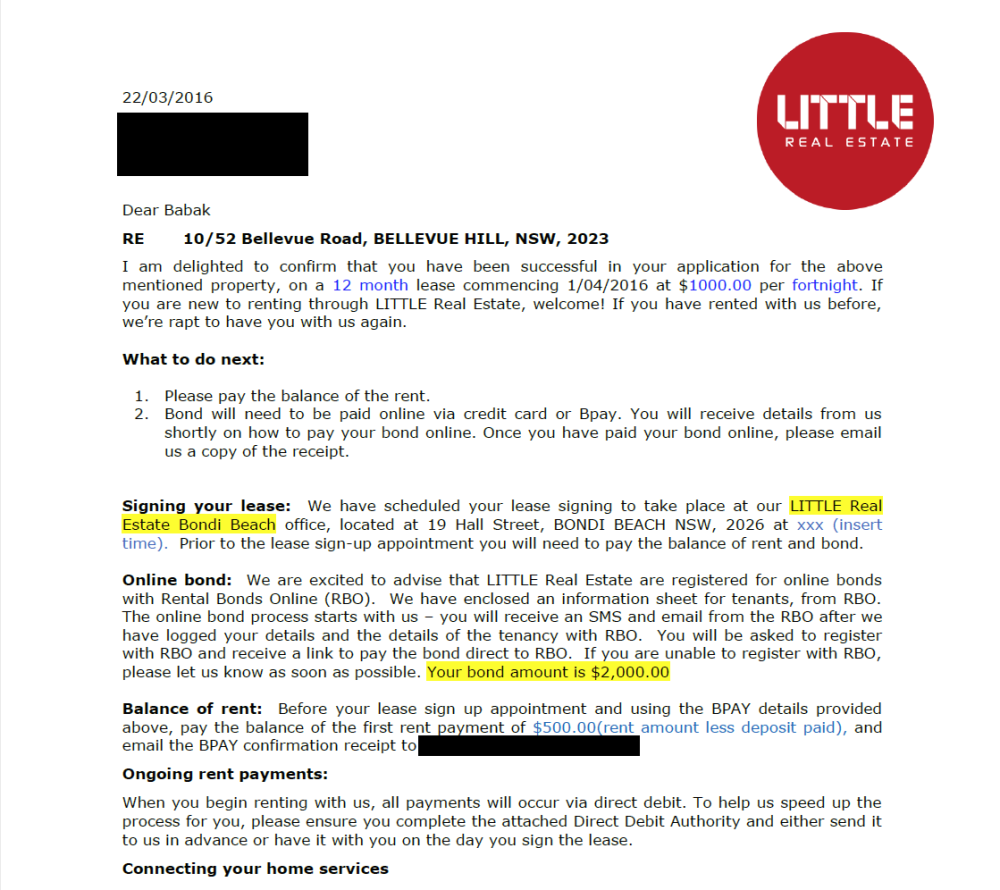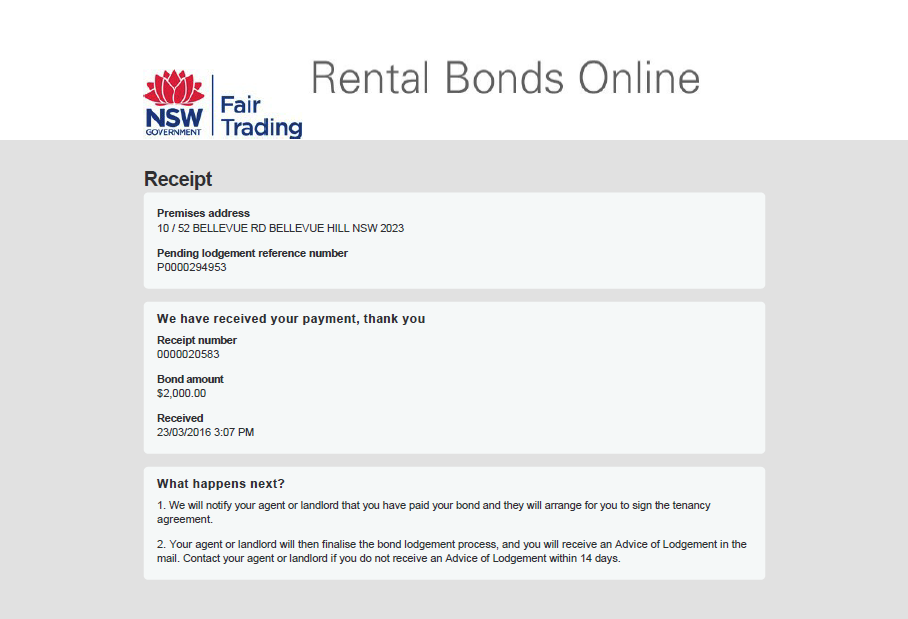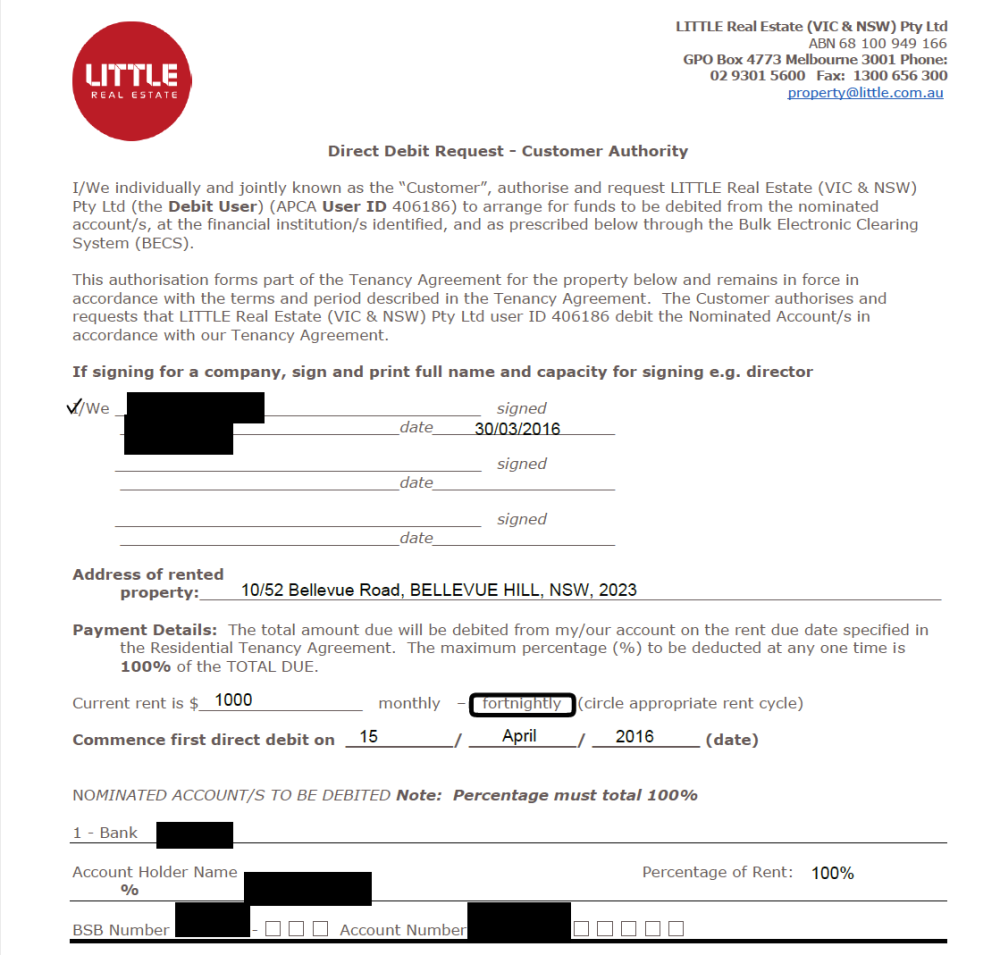 I had organised to move in on the 1st of April this was the day i had also told the agents i would be picking up the keys and signing the remaining rental agreements.

On the 30/03/2016 I received a phone call from Little Real Estate Bondi that the property which I had leased was no longer available as the property had been sold i was no longer available to move in!
This was a complete shock to me as it was 2 days before i was due to move in i had organised for furniture to be delivered, time off work to move my goods and i had vacated my previous residence. Little Real Estate Bondi had made me homeless.
After some heated telephone calls Little Real Estate Bondi agreed to find me another property they could rush me into although each unit was either much more expensive, much smaller and not suitable for my needs or was not available immediately which was problematic as I was homeless.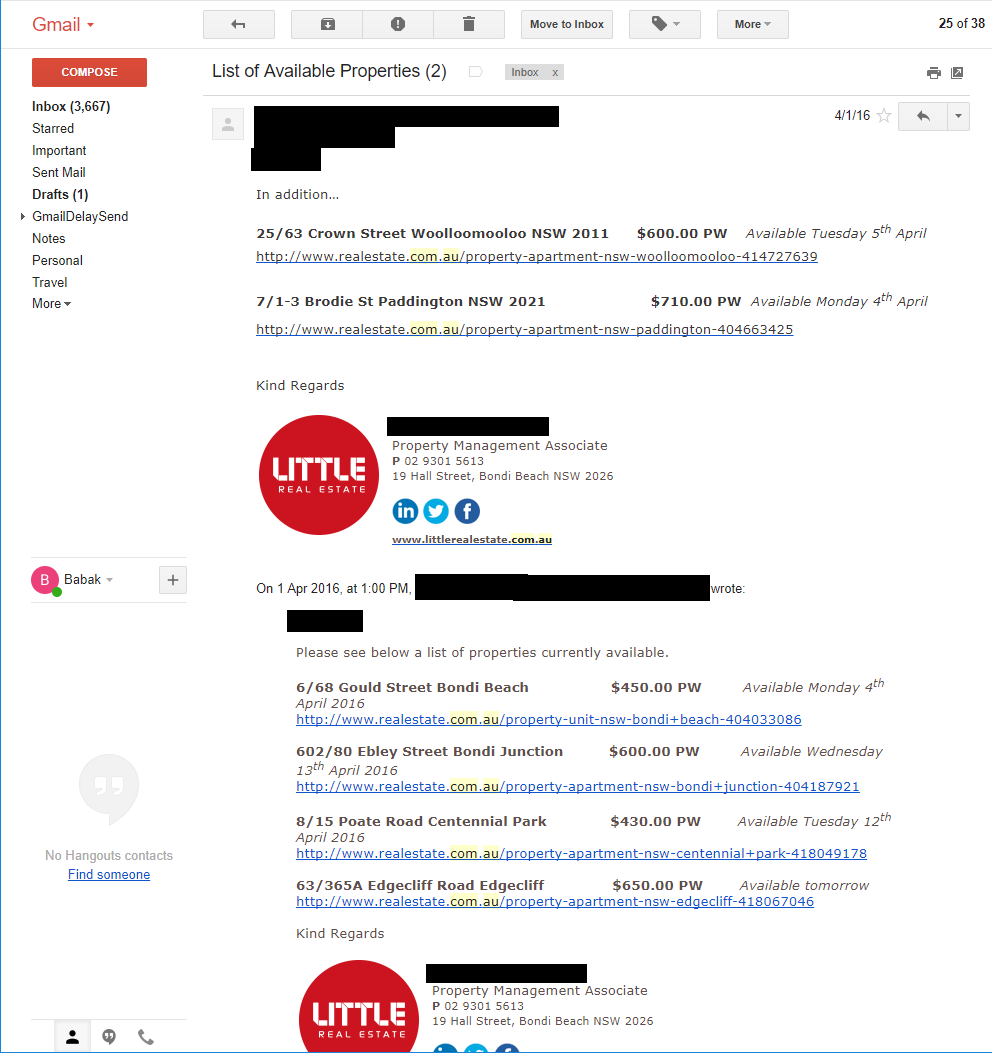 My experience with Little Real Estate Bondi was extremely disappointing i was lied to, placed under considerable stress, made temporarily homeless and suffered significant financial loss.
I was promised a meeting with the principles of the agency after this entire debacle for an apology and some compensation, i wanted to split the difference of the extra rental payments for 6 months about $1200 but i was accused of trying to profit form the situation. The meeting never occurred as far as Little Real Estate Bondi was concerned as soon as they had shoe horned me into another unit the matter was over.
I acted in good faith followed and complied with all instructions provided to me only to be put through a very stressful and expensive ordeal.
If any media agency would like to run with this story please contact me on bsanayei@gmail.com